A stark warning from the north west's voluntary sector suggests that David Cameron's dismissal of research and monitoring would make a bad situation worse. Dan Silver offers examples
Share 104
inShare1

Email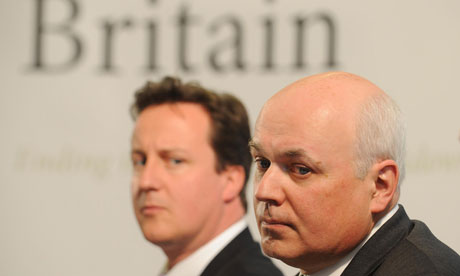 The Prime Minister with Iain Duncan Smith, whose narrative of broken families and poverty is just the sort of assertion which needs testing and research. Photograph: Stefan Rousseau/PA Wire
The stated aims of the government's welfare reform agenda appear to be sound on the surface: simplifying benefits, making work pay and reducing dependency. However, a more thorough examination reveals a deeply worrying shift, which come April will manifest itself in the suffering of many of our most vulnerable communities as they are drawn further into poverty.
Evidence to support this is stark and mounting. Just last week, research by the Chartered Institute of Housing showed that 400,000 vulnerable families will be worse off with the introduction of Universal Credit, with lone parents, those on minimum wage and those already in poverty losing out.
Further, with payments being made directly to claimants on a monthly basis, around 20-30 percent of tenants may well struggle to pay the rent on time when the Universal Credit comes in. In addition to this, it is actually questionable as to whether the government will achieve its aim of 'making work pay'; a report by the Joseph Rowntree Foundation shows that given other barriers to work such as childcare costs, the supposedly improved financial benefits may not materialise.
There's more from the Foundation in this Guardian report today.
These impacts do not appear to have been seriously considered by the government, and the potential for further assessment of how policy impacts upon vulnerable communities has been undermined by David Cameron's recent speech to the CBI in which he declared:
Consultations, impact assessments, audits, reviews, stakeholder management...assessing sector feedback - this is not how we became one of the most powerful, prosperous nations on earth. It's not how you get things done.
Such processes are not 'bureaucratic nonsense' but a means of being able to judge whether policy is equitable or not. The welfare reforms and the accompanying swingeing cuts to the advice services which help people to navigate through the changes will have a devastating impact on many people.

Report after report has warned of the growing scale of child poverty in the UK. Photograph: Christopher Furlong/Getty Images
A report last week from the New Economics Foundation shows how 'everyday insecurity' is set to rise. There will be an increase in both the breadth and depth of poverty. More people are slipping into poverty, whilst others are becoming increasingly desperate - as can be seen by the continued use of food banks. At a conference last week run by Voluntary Sector North West, attended by two hundred voluntary sector representatives and political leaders, frontline advice agencies told how some people may not survive. This is simply not acceptable in twenty-first century Britain.
The government's solutions to bring about more social justice? One is to monitor the number of children still in households that include both their parents – in which family breakdown is seen as important as a lack of money. This is an active choice of priorities and fits into the wider narrative of Broken Britain, which increasingly reveals itself to be at best a tragically flawed assessment and at worst, what academic Tom Slater identifies as a 'pernicious ploy.'
A narrative of 'scroungers' serves to individualise blame for poverty, whilst neglecting the wider social factors that contribute – such as a socially unjust economy, a deeply unequal labour market and structural inequalities that pervade our society, as well as the fact that the majority of people in poverty are in fact working. Fundamentally, it absolves government of the need to consider how policy affects people's lives. Such an approach will inevitably lead to impacts that cause tremors through our communities for many years to come.